Bellaire Wood Fence
In most residential areas in Bellaire, it is easy to spot wooden fences around houses—built for security and aesthetic purposes. You will notice that even though they are typically made of one material, the patterns, colors, and styles all vary from home to home, some offering a simple classic look while others provide sophistication and elegance.
Wood is a very popular material for fences. However, it may also acquire several forms of damage over time. Termites can destroy them from within, while human activities and harsh weather can cause warping, dents, and bends. In due time, wooden fences will deteriorate, losing structural integrity and attractiveness.
Houston Fence Company is a trusted Bellaire, TX wood fence company that can provide every product and service you need to have the most durable form of wooden fence through today's technology. We offer a wide range of options, from premium-quality wood to customized designs that can satisfy your taste and budget. Our kiln-dried wood reinforced with the best wood preservatives ensures that your fences can stay attractive for the longest time.
Call Houston Fence Company today at (832) 793-6134 for your Free Consultation with a Bellaire Wood Fence Specialist!
Wood Fencing Options
Our Bellaire wood fence services are always available. But before we go to that, we are here first to help you know the available wood and fence options and decide on the best one for you according to your preferences and budget. Each fence type has its pros and cons and can satisfy a specific set of customer needs. We're to help you find the best one for you.
Here are a few examples:
Privacy Fence
If privacy is your priority for setting up these fences, privacy fences can do wonders for you. Most homeowners want their fences to be able to not only block out unwanted attention but also noise pollution.
We have privacy fences that can stand from six to eight feet high, depending on your preferences. With this length, you can expect that no one will be able to peek through these barriers, giving you and your home a great amount of privacy.
Picket Fence
Picket fences are a classic, vintage look that people are still chasing. Standing typically from three to four feet, you can get them in a variety of styles and colors from Houston Fence Company.
Aside from their looks, they also offer a level of security. Picket fences are known to have pointed tops that make it difficult for unwanted intruders to enter the premises they guard.
Rail Fence
The primary purpose of rail fences is to mark the exact boundaries of an area. This is typically used by owners of farms, livestock fields, or gardens. They are freely spaced out so the establishment can be easily seen inside them.
You can choose among various styles of rail fence from our company, although those with a countryside aesthetic are a customer favorite.
Custom Wood Fences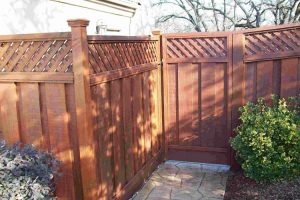 Working with Houston Fence Company expands your opportunities to more than just picket fences and railings. With our state-of-the-art facilities and equipment, we can design and create any customized fence, regardless of how complex the modifications can be.
As long as our clients request it, we are up for the challenge of creating the best fences for them.
Rest assured that we make our fences to their peak durability regardless of the material used. We know that fences are exterior objects meant to stay firm despite any outdoor conditions.
Full-Service Wood Fence Company
Fences are not really most people's specialty. It can be difficult to pick the best material, style, type, or height, especially if this is your first time having fences installed around your home or business building.
With Houston Fence Company by your side, you can get stellar customer service and expert recommendations on top of our high-quality Bellaire wood fence products. We will make the entire process smooth and efficient for you.
After you tell us all the important information about your project, including your budget, preferences, and needs, we will recommend the best solutions based on our expertise, experience, and industry standards. We also have samples that you can browse to have a good look at how your fence will look.
After we've finalized the material, style, and other details of your fences, we will immediately begin manufacturing them and acquire all the necessary permits, if there are any. We are also capable of handling the entire installation phase, from the logistics of bringing the fences around to securing them on the ground. If there is a need for special maintenance or if you need repair services, we can also provide them for you!
Let's Talk Now – Free Consultation
When it comes to fences, the wooden type has been a staple and a favorite across many cultures and generations. They are what we've been dependent on for decoration, security, and privacy.
Today, there are many ways to satisfy these needs, but wooden fences are still known to be able to increase the value of properties because of their classic and elegant look. For the best Bellaire, TX wood fence products and services, Houston Fence Company is here for you.
Our wood fence experts will guide you throughout the process, ensuring that the final product completely satisfies you as our client.
Call Houston Fence Company today at (832) 793-6134 for your Free Consultation with a Bellaire Wood Fence Specialist!