Katy Fence Company
Get high-quality and durable fences around your house or business building with the top Katy, TX fence company, Houston Fence Company.
Fences are highly advantageous to anyone who gets them for their business or residential property. They keep pets in and intruders out. But aside from providing security, fences increase the real estate value of any building in terms of style and aesthetics.
Houston Fence Company is a leading Katy fence company that can provide every product and service you need, from the best fence design options to helping you understand the entire technical process of creating and installing these quality enclosures around any type of establishment. Rest assured that we will offer you the best deals you can get, as well as deliver the products strictly according to schedule!
Call Houston Fence Company at (832) 793-6134 for your Free Consultation with a Katy Fence expert!
Choosing the Perfect Fence For Your Needs
As a top player in our industry, we always make sure that our clients have a good understanding of what products they will be getting from us as well as the other available options.
As part of our process, we always make a way to conduct an on-site inspection of our clients' areas. This is so we have a good understanding of the place and which specific fence options would work best for it in terms of both aesthetics and functionality. If we think there would be better options than the ones you want to put, we will recommend them to you. We will also provide you with an estimated cost for the fence and the installation services.
Our fence experts will be ready to listen to all your creative ideas and goals, so we know how to meet your expectations. If there are any local ordinances or community guidelines about setting up fences, don't worry. We got you covered in this area too.
Popular Fencing Materials
Understanding the location and the type of fence is important. But a more vital factor is the material of the fence itself. It can dictate the fence's durability, longevity, and general look.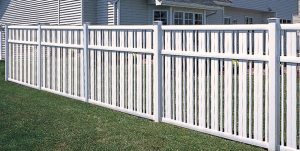 The most popular options today include vinyl, iron, and aluminum. Wood remains the timeless, traditional, and automatic option, although vinyl is becoming a crowd favorite due to its durability and versatility in design. Vinyl is known to imitate the look of more expensive materials like stone and metal for a much lower cost.
Aside from having all the state-of-the-line construction and production equipment, our in-house facilities also house various fence-type stocks. We can readily send these quality products to your vicinity and have our installation experts do the work quickly and efficiently. Also, if you need repairs, we can quickly provide you with the appropriate resources. Any custom orders can also be easily done here by our fence experts, no matter how unique the designs you have for your fences.
Just make a request, and we can show you all the fence design options available and tell you the pros and cons of each one. We want you to make the best decision possible for your fences, so we offer every recommendation and information we can give.
Professional Fence Installation Company
The longevity of fences is not only dependent on the material they are made of. They must also be installed properly so they can stand secured despite daily exposure to harsh weather conditions.
With Houston Fence Company as your Katy fence company, you can get more than just beautifully designed fences. You also get top-notch installation services from highly experienced construction professionals. We know how to secure any type of fence perfectly on any terrain, ensuring that our clients get the investment they paid for.
Our experts are more than glad to go to your residence or business area to inspect that place and determine the best courses of action to install your fences. We will assess the layout of the area and factors that may affect how the fences must be installed.
Let's Talk Now – Free Consultation
Looking for a reliable and proven provider of fence products and services? Look no further than the top Katy fence company, Houston Fence Company. We are here to bring your creative ideas into reality, providing every quality fence product that you need alongside industry-level installation and designing services to perfect the house or business building that you envision.
Any requests you have from the fence industry, we are here to help you out, guaranteeing the best possible costs in the market.
Call Houston Fence Company today at (832) 793-6134 for your Free Consultation with a Katy Fence expert!